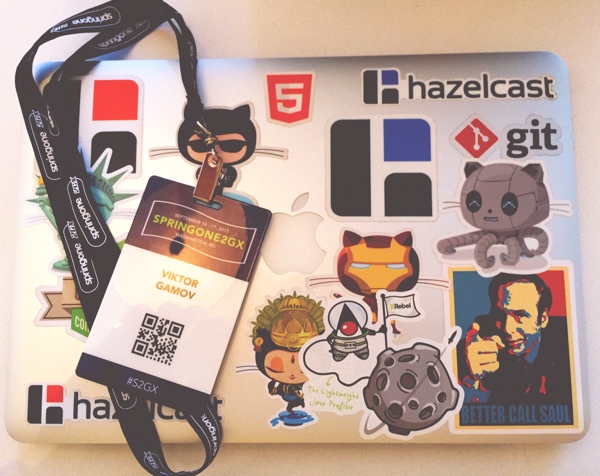 TL;DR

It has been an awesome year full traveling (roughly 20 states), POCs for the clients and the prospects, training (including public classes) and conference talks. While I am already looking forward to 2016, here is a quick recap of my 2015 with Hazelcast.
Table 1. Revisions history

| Version | Date | Comments |
| --- | --- | --- |
| v1.2 | 1/6/2015 | Added Groovy Puzzlers Video link from SpringOne 2GX |
| v1.1 | 12/31/2015 | Added Atlanta JUG video link |
| v1.0 | 12/29/2015 | Initial blog post |
Into
2015 has been a helluva of a year for me, which started off with a new job: the Solutions Architect in Hazelcast - Open Source In-Memory Data Grid company. In addition to travelling to over 20 states, I had numerous opportunities to share my programming experience and how to develop and deploy the distributed systems. I enjoyed the conference talks, blog posts, and podcasts (1, 2, 3 in Russian).
Hazelcast Trainings
As a part of the solutions team at Hazelcast, I lead numerous training engagements for clients and open public classes in many places across the country, including Tampa, FL, Richmond, VA, New York, NY, Jersey City, NJ, Rockville, MD and Cary, NC. Just a couple months ago we launched our training portal - Hazelcast University. And I'm very pleased to tell you while it wasn't easy, we did it! It has been rewarding to receive all the positive comments on the training labs.
5 minute in someone's #Hazelcast project https://t.co/lfoeFNcdtn Learn from the source https://t.co/DivHmCbVrW

— Viktor Gamov (@gAmUssA) December 12, 2015
By the way, don't hesitate to ping me on Twitter if you're interested in attending one of our courses online or in-person. I might even be able to provide you with discount!
Conferences and Events
One of my favorite activities in 2015 was getting to speak at many JUGs and conferences.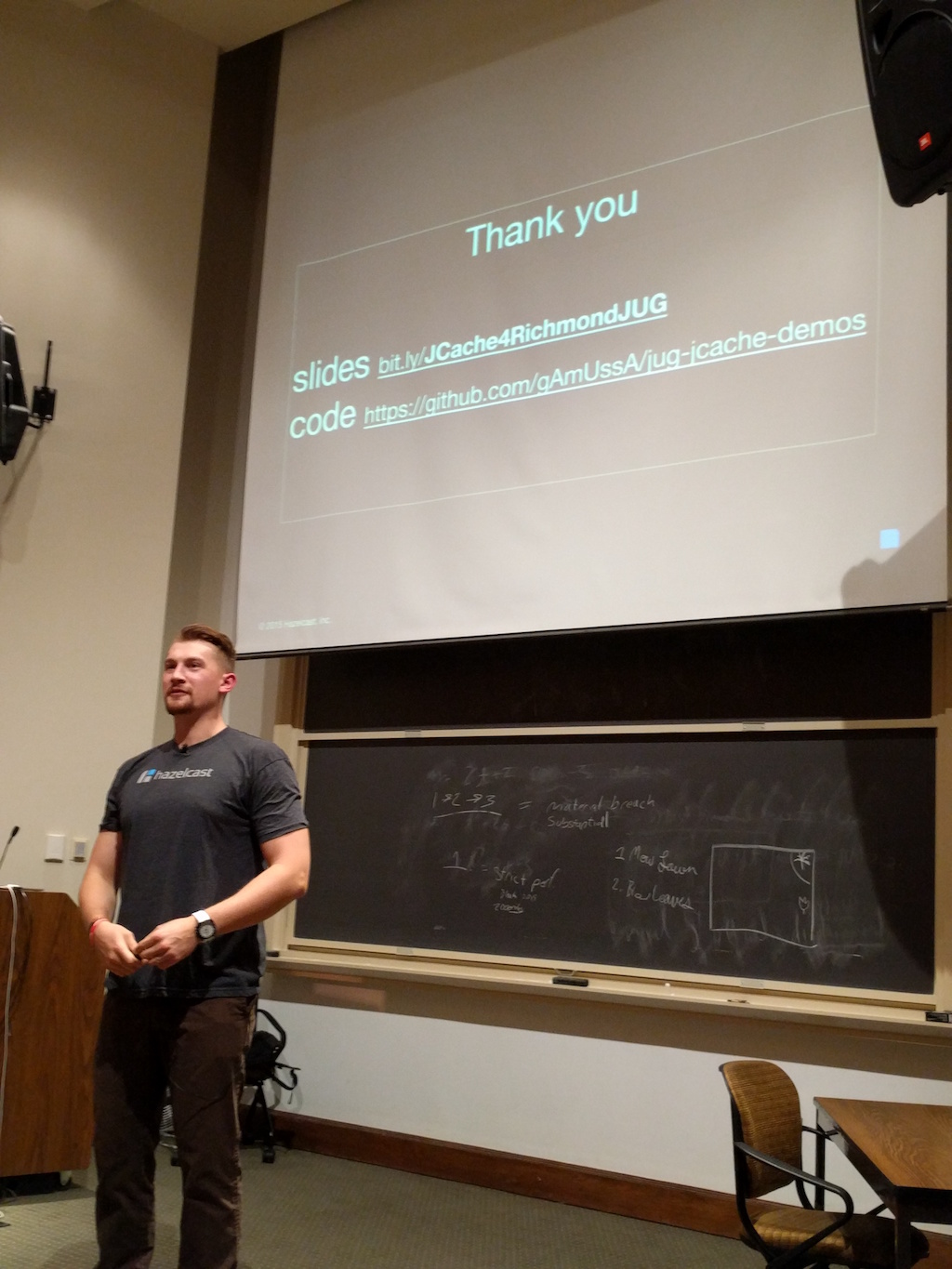 Here is a sampling of some of the places and topics where I presented this year.
| Event Name | Location | Topic | Date |
| --- | --- | --- | --- |
| DevNexus 2015 | Atlanta, GA | Applied real-world projects with Java and JavaScript | 2015-03-11 |
| Code PaLOUsa | Louisville, KY | Ground-up Introduction To In-Memory Data | 2015-04 27-30 |
| HUG-NYC Princeton JUG | Online NY/NJ | Hazelcast: In-Memory Data Grid Without Black Magic | 2015-05-07 |
| QCon New York | New York, NY | Ground-up Introduction To In-Memory Data | 2015-06-12 |
| SpringOne 2GX 2015 | Washington, DC | The Epic Groovy Puzzlers S02: The Revenge of the parentheses | 2015-09-16 |
| SpringOne 2GX 2015 | Washington, DC | Spring Framework: The Ultimate Configurations Battle! | 2015-09-16 |
| North Boynton Coders | Boynton Beach, FL | Hazelcast for Java Developers | 2015-10-21 |
| Orlando JUG | Orlando, FL | Distributed Caching and JCache | 2015-10-22 |
| GreenJUG | Greenville, SC | Hazelcast for Java Developers | 2015-11-12 |
| Richmond JUG | Richmond, VA | Distributed Caching and JCache | 2015-11-18 |
| Atlanta JUG | Atlanta, GA | Distributed Caching with JCache and Beyond | 2015-12-15 |
Video from JCache talk given at Atlanta JUG 12/15/2015
Other SpringOne 2GX 2015 talks were recorded and will be available shortly. Keep an eye on this page.